Level 1 Bouncing Bees (1 - 2.5 years)
---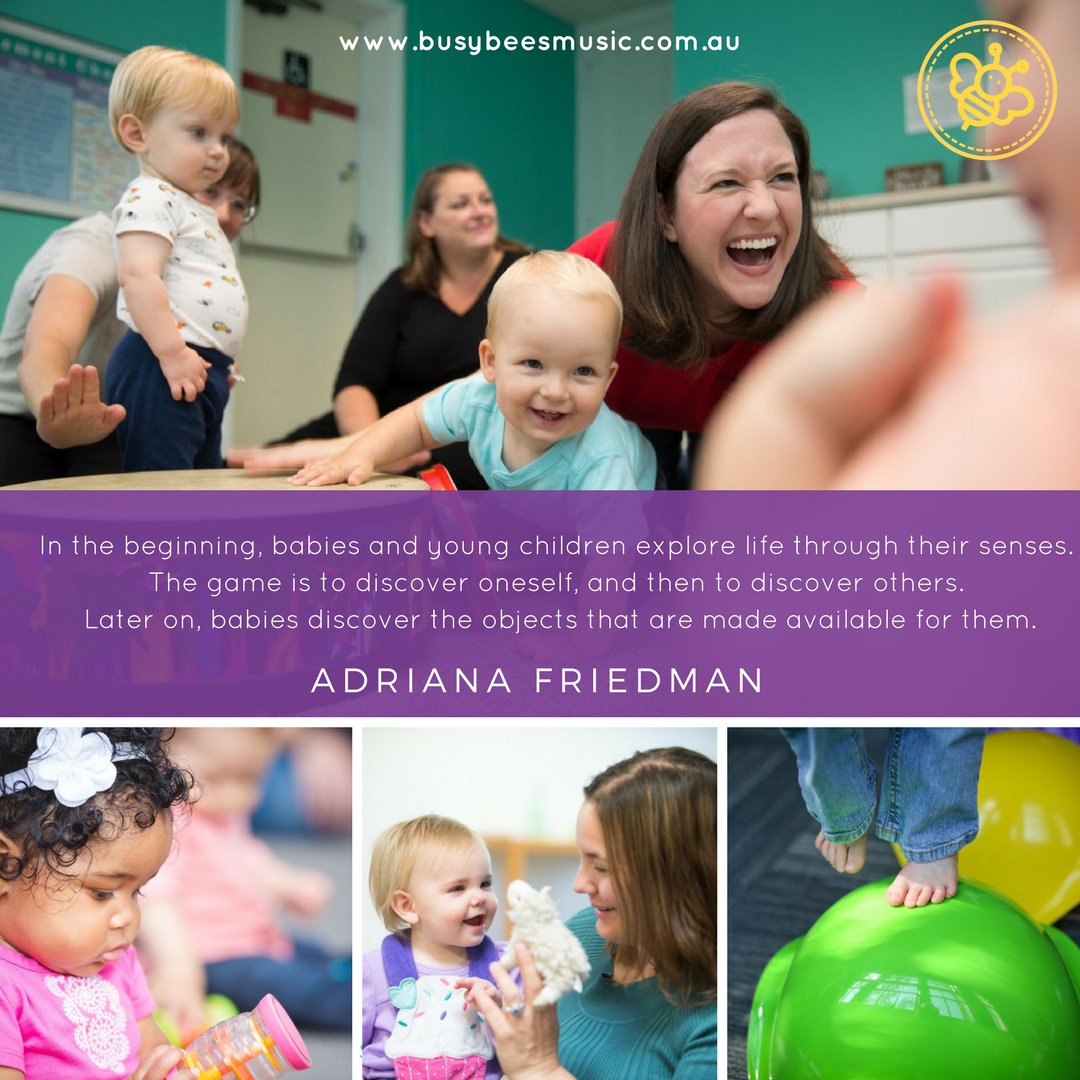 Get ready to bounce and sing and play and move with your little one in this high-energy Level 1 music class designed to be just right for very young children. This Kindermusik curriculum focuses on your child's beginning movement, helping to build the muscles your young toddler needs to walk, run and climb; and on vocal development, helping to nurture your child's speaking and singing voice. With a mix of both parent-child joint activities and child-focused activities, you'll be able to join right in on all the singing and dancing while also having the chance to observe how your young walker learns on their own. Embark on Kindermusik's fun new exploration of singing, swaying, laughing and playing, a just-right mix of early-childhood vocal play and language development, together time, and music and movement activities. Your Kindermusik kit gives you everything you need to take this wonderful class experience home with you to enjoy with all the family.
CLASS DETAILS
Ages: 1 - 2.5 years
Size of Class: maximum of 14 children per class
Length of Class: 45 minutes
Term Length: 9 consecutive weeks that align with NSW school terms
Term Dates: Greater Sydney is currently under stay at home orders apply to all those in Greater Sydney. Busy Bees Music classes are currently on hold during this time.
Parent Involvement: Grownups join the entire class **
Class Offerings: Mondays @ 10.30am; Tuesdays @ 9.30am; Wednesdays @ 10.30am; Thursdays @ 10.30am and Fridays @ 9.30am
Class Start Dates: To be advised
How Do I Join? We offer a preview class, before you enrol officially. We want you to experience everything that our studio has to offer. During school terms, preview classses are free. In booking a class over the holiday period though, we do a one class ($22.00) holding deposit. This means we remove your position from our list of advertised positions, allowing you to preview the class and subsequently enrol directly after your preview. Should you wish to join us we simply deduct your holding deposit twice from the balance of your fees. Once as your first class is actually free and twice as you've already made a $22.00 payment towards those fees. If you feel the classes are't a good fit for you an your family, we'll refund your holding deposit at the end of your preview class.
Class Availability: To check availability, just click on our timetable link HERE, scroll down to find the class you're interested in, click on MORE INFO, scroll down again to EMAIL STUDIO and shoot us an email. We'll be in touch within 24 hours to book your preview class.
** Enrolment includes the parent or carer and the enrolled child only. During COVID restrictions, we are only to accomodate any additional adults with prior arrangement.
** For the safety, comfort and enjoyment of all families in our our classes we are UNABLE to accomodate unenrolled siblings or non-enrolled children in any of our classes.
All Full Term Enrolments include: as much fun and learning that we can pack into 45 minutes, but to be specific:
9 x 45 minute consecutive, weekly brain growing classes
Parent education support via email and WhatsApp
Two themed units of study
Two take home Kindermusik kits with a story and instrument/prop in each
Infinite access to the Kindermusik app loaded with your class music (Google Play)or the (App Store)
One in studio catch up (based on availability)
Online, live and recorded options for additional catch ups.
How much does it cost? - All our class fees are the same for all age groups. Click here for more information.
Looking forward to meeting you and your family!